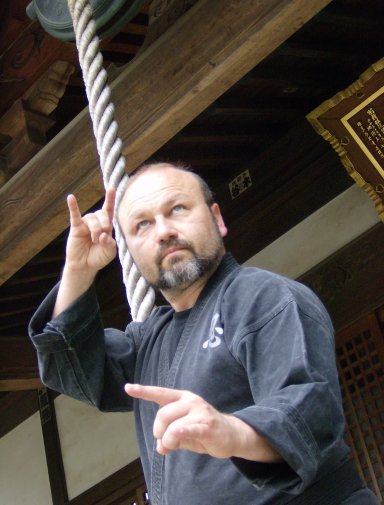 Hi. Shidoshi Miller here. And, as a special for you as a loyal subscriber to my online ninjutsu training newsletter...
I'd like to make a very special
One-Time-Only offer to you.
But only if you're
serious

about changing your life, having the skills to protect yourself and others, and having the confidence, power, and control of a true Master Warrior.

I'd like to offer you a special, 2-week Trial Membership in my brand new
Ninpo-Mastermind, online ninjutsu training program.

This special program will give you 4 lessons per month (1 each week). These are full lessons, and taken directly from my most popular online training programs, home study courses, annual Ninja Camps, seminars, bootcamps, and more! You will learn such topics as:
Delivering powerful strikes and kicks
Wrist locks, holds, and controls
Official Bujinkan ninpo-taijutsu kata
(directly from the ancient scrolls of the 9 lineages)
Ninja walking, rolling, leaping and breakfall skills
Escapes from holds, locks, and restraints
Ninja & Samurai weapons (i.e. sword, long staff, shuriken, etc.)
Why you should enroll in this training program


Why should you enroll in this new program?
Well, for starters, perhaps you've never purchased any training from me. Or maybe you haven't been on my list for very long. If so...
I know that you probably don't know me. You don't know how I'm different from any other teacher or so-called "master" on or off the internet. You don't know how what I teach is any better than what anyone else is teaching.
And I know that the only way to convey that difference is to "show" you.
Telling you won't help.
Talking about the differences isn't effective.
Maybe you do know me, but you just don't have the time, financial resources, or ability to travel across the country or around the world to train with me. At least not yet anyway.
Or, maybe you have done some training with me, either at seminars or with some of my home study programs, and you'd like to do more, regular, consistent training. So...
...I've decided to put together a really incredible offer - the best way that I know of to:
Share my 30+ years of training, study, research, and testing of these lessons
Prove that what I teach works, today, on the streets of the 21st century
Demonstrate that what I'm teaching has not just been learned, but tested and proven in the only place that matters - in real self-defense situations...


...against real attacks...

...from real, brutal, blood-thirsty assailants who want to beat, break, or kill you!



And, not only do I believe that this program is going to change your life - I believe that it's going to really accelerate your progress towards Warrior Mastery!
But, here's the thing...
Not only do I believe it - I believe it so much that I'm going to do something that most teachers would never dream of doing.
If you jump on this training opportunity right now, as a Charter Member -- I'm going to give you my high-level, $397 training program on
"Exploring The Power of Kamae"
(**The Ninja's self-defense combat postures),
just for trying the Online Ninjutsu Training Program!
In this powerful, master's level program, taken from one of my live training seminars that was taught to a group of advanced students in Toronto, Ontario, I'm going to teach you how to look behind the so-called "stances" in the Ninja's self-defense combat method, and see the secrets buried there for only the most serious students - students seeking true Mastery - to find! Here's the link to the sales page so that you can get all the information about this powerful training program: Exploring The Power of Kamae
(** If you already have "The Power of Kamae" Program, let me know after you order, and I will make it up to you by giving you another program of equal value - but ONLY if you have purchased the Kamae program)
Special Pricing for Charter Members only...

The Ninpo-Mastermind, Online Ninjutsu Training Program is normally $197 per month. But, because you are coming in right now on this page, I am going to discount it to $47 per month as a special charter offer...

PLUS you get the first 14 days for just $4.95.

PLUS... you get my 200% Money Back Guarantee. That's right - if you don't absolutely LOVE this training - just send me an email and I'll refund 200% (that's double your money back) of your payment for the Trial Program.

I know that you can see what kind of a bargain the $47 is, when the bonus, gift program is $397. So...

$4.95 is a no-brainer!

To take advantage of this great trial offer, simply click the PayPal button to get enrolled for the introductory rate of just $4.95.

Then, immediately after you've completed payment thru PayPal, you will receive your bonus training as an instant download right away, and begin to receive your monthly training lessons when they are scheduled to go out to all of the students in this program. Oh...

In case I forgot to mention it, your monthly membership also comes with unlimited email coaching from me for as long as you are in the program. That means that, if you ever have any questions about the lessons, the techniques being taught, or your own training...

...I'm only an email away to help you with it!

Remember, there is no set time limit for you to be in the program. Of course, I would hope that you would stay around, month after month, getting all of the great training lessons that I will be sending, but there is no obligation. You may cancel your membership at any time. Just send me an email before your next monthly tuition is due - tell me you want to quit, and we'll make sure that you are removed from the program.

NOTE: The 200% Money Back guarantee is only valid on new Trial Offers. Once your trial period has expired, you may cancel at any time without owing anything more. There are no refunds or money back privileges after the initial 14 day Trial!
(** NOTE: Due to the nature of the training, and the fact that I am only willing to work with serious students, it is my policy to not allow those who quit to rejoin the program)
But, if you're serious and for as long as you decide to remain in the program, over the coming months I am going to teach you...
How to easily slip by any punch, grab, or kick so that you never need to waste time trying to block another attack again
If you do have to block (and I'll tell you when that should be), you will be able to do it without taking up a "karate stance" first - and you'll be able to hold off someone 2 1/2 times your size...

ON ONE FOOT

!
How to draw, cut, and handle a real Samurai sword!
How to deliver effective, knock-down, damaging strikes using many of the Ninja's "secret fists"
How to walk, roll, leap, and move like a real Ninja

And... because this is about Ninpo (the higher order of Ninjutsu), and not merely another martial art, I am also going to share with you, lessons on...


the historical requirements for becoming a true Ninja
Surviving in the wilderness
Bushi no Me - 'Seeing with the eyes of a Warrior'
the "8 Gates" (official training areas) of a Ninja
Warrior-based Meditation training for more effective self-defense
and a lot MORE!


This will be your only opportunity to get this special offer, with this $397 high-level, bonus training program. Once you click away from this page, that's it. You will not see it again.
So... again... if you're serious about wanting to learn ninjutsu - the art of the ancient Ninja of Japan - if you really want to be able to protect yourself, and to be able to change your life with the kind of power, confidence and control of a true Master Warrior...
...here's your chance!
To take advantage of this Trial Program and get your 2-week "Ninpo Mastermind" online training program trial for just $4.95, click on the PayPal button now to get started!
After your 14 day trial period, you will be automatically billed $47 each month.
Go ahead and enroll into this great online ninjutsu training program now!
No thanks Shidoshi Miller.
I will just figure this out on my own.